{Copyright (C) 2011 Solid Rock Baptist Church All Rights Reserved}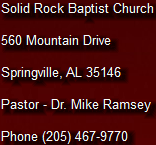 Solid Rock Baptist Church

560 Mountain Drive

Springville, AL 35146

Pastor - Dr. Mike Ramsey

Phone (205) 467-9770
Sunday School -- 10 AM

Sunday Worship - 11 AM

Sunday Evening -- 6 PM

Wednesday Night -- 7 PM
Solid Rock Baptist Church
The end of your search for a friendly church !
BIBLE MEDITATION: "Neither yield ye your members as instruments of unrighteousness unto sin: but yield yourselves unto God, as those that are alive from the dead, and your members as instruments of righteousness unto God." Romans 6:13

DEVOTIONAL THOUGHT: Did you know that if you let the devil be uppermost in your life today, it is because you are doing the letting? Before you were saved, you had no choice. You were a slave to sin (John 8:34). More than that, you were dead in your trespasses and sin (Ephesians 2:1-3). Does a dead man choose to be righteous? No. But, if you are saved, God has made you alive in Christ (Ephesians 1:4-5). Now, you don't have to let sin have the upper hand in your life. There is absolutely no power that says you must sin. When God saved you, He gave you the power to overcome sin. When Jesus becomes your Lord, you dethrone sin and enthrone Him. We need to be like the man who prayed, "Lord, help me cooperate with You, so You won't have to operate on me."

ACTION POINT: Ask God to reveal if you have been knowingly or unknowingly yielding yourself as an instrument of unrighteousness. Ask Him to convict you and bring you to repentance. Ask His forgiveness and for His power to be an overcomer. Now, praise God for He makes all things new!