{Copyright (C) 2011 Solid Rock Baptist Church All Rights Reserved}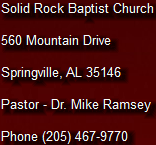 Solid Rock Baptist Church

560 Mountain Drive

Springville, AL 35146

Pastor - Dr. Mike Ramsey

Phone (205) 467-9770
Sunday School -- 10 AM

Sunday Worship - 11 AM

Sunday Evening -- 6 PM

Wednesday Night -- 7 PM
Solid Rock Baptist Church
The end of your search for a friendly church !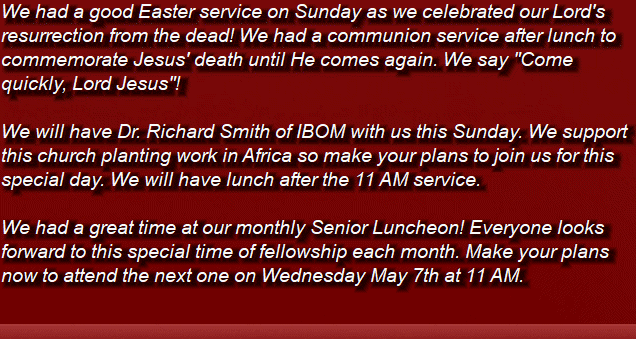 It is hard to believe that the holiday season is here again! We hope all of you have a wonderful Thanksgiving holiday and remember to give thanks for everything - the Bible says that this is the will of God.

Our next update for our web site will be after the Thanksgiving weekend - have a good week next week !!!


Our weekly church bulletin is available using the link below.