{Copyright (C) 2011 Solid Rock Baptist Church All Rights Reserved}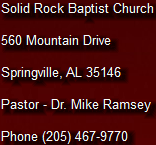 Solid Rock Baptist Church

560 Mountain Drive

Springville, AL 35146

Pastor - Dr. Mike Ramsey

Phone (205) 467-9770
Sunday School -- 10 AM

Sunday Worship - 11 AM

Sunday Evening -- 6 PM

Wednesday Night -- 7 PM
Solid Rock Baptist Church
The end of your search for a friendly church !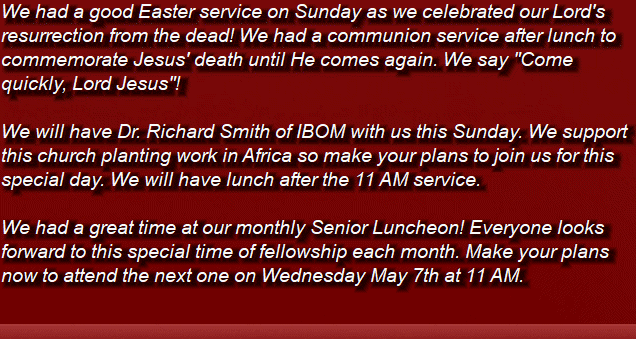 Thank all of you for your prayers for my wife, V. She is in out-patient therapy and doing well.

Pray for member Bill Newton. He has Alzheimer's and has been going downhill the past few months. Also pray for his wife, Barbara as she deals with this difficult situation.

We are started a new Sunday School series last week with Brother Steve Ramsey teaching. Check these lessons out on our site !