{Copyright (C) 2011 Solid Rock Baptist Church All Rights Reserved}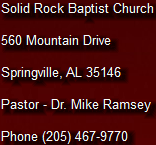 Solid Rock Baptist Church

560 Mountain Drive

Springville, AL 35146

Pastor - Dr. Mike Ramsey

Phone (205) 467-9770
Sunday School -- 10 AM

Sunday Worship - 11 AM

Sunday Evening -- 6 PM

Wednesday Night -- 7 PM
Solid Rock Baptist Church
The end of your search for a friendly church !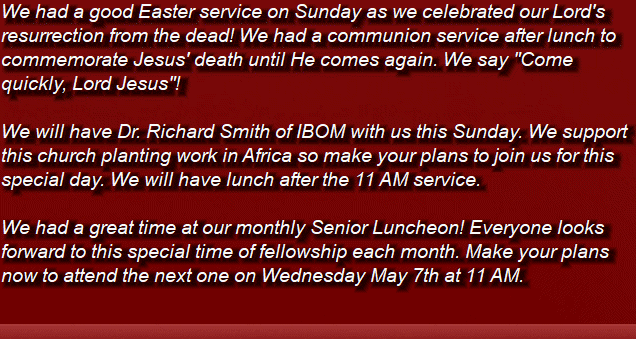 Continue to pray for Brother Mike. He will have some more tests run this month and be evaluated whether any thing else needs to be done at this time.

Please pray for Brother Steve (Mike's Brother). He had surgery to clear the main artery in one leg and is to return to have the other leg done.