{Copyright (C) 2011 Solid Rock Baptist Church All Rights Reserved}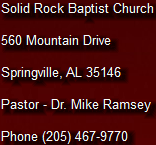 Solid Rock Baptist Church

560 Mountain Drive

Springville, AL 35146

Pastor - Dr. Mike Ramsey

Phone (205) 467-9770
Sunday School -- 10 AM

Sunday Worship - 11 AM

Sunday Evening -- 6 PM

Wednesday Night -- 7 PM
Solid Rock Baptist Church
The end of your search for a friendly church !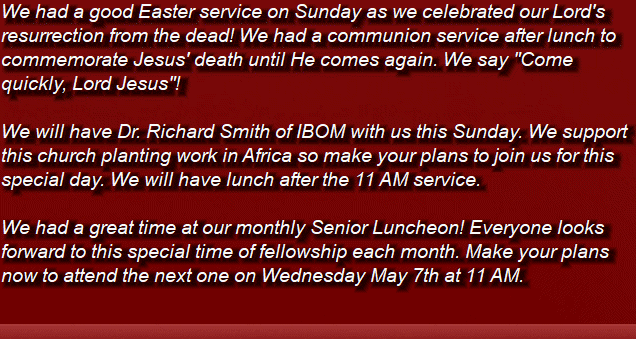 We had a great time of worship and fellowship yesterday after the morning service and were treated to a BIMI missionary video during the evening service. We appreciate the visitors we had and all the hard work the ladies did in cleaning and preparing the food.

We are continuing our study series in the book of Romans in Sunday School. Be sure to check this teaching out on our site.