{Copyright (C) 2011 Solid Rock Baptist Church All Rights Reserved}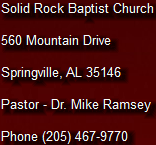 Solid Rock Baptist Church

560 Mountain Drive

Springville, AL 35146

Pastor - Dr. Mike Ramsey

Phone (205) 467-9770
Sunday School -- 10 AM

Sunday Worship - 11 AM

Sunday Evening -- 6 PM

Wednesday Night -- 7 PM
Solid Rock Baptist Church
The end of your search for a friendly church !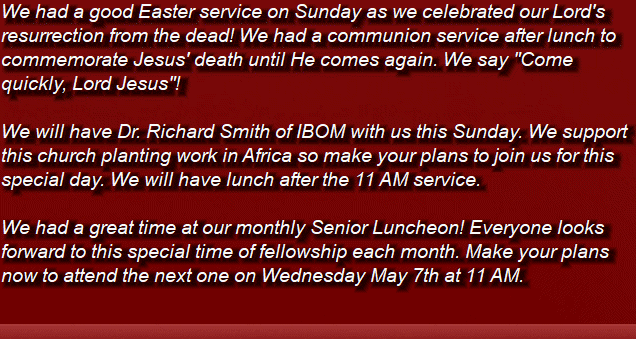 We are glad to be back from a couple of weeks of vacation to update our website. We are glad to report that some of our sick folks you have prayed for have improved ! Thank you for your prayers and support !


We continue with Brother Mike teaching a new Sunday School series about the church. Check these lessons out on our site !