{Copyright (C) 2011 Solid Rock Baptist Church All Rights Reserved}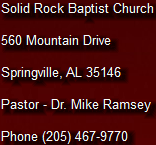 Solid Rock Baptist Church

560 Mountain Drive

Springville, AL 35146

Pastor - Dr. Mike Ramsey

Phone (205) 467-9770
Sunday School -- 10 AM

Sunday Worship - 11 AM

Sunday Evening -- 6 PM

Wednesday Night -- 7 PM
Solid Rock Baptist Church
The end of your search for a friendly church !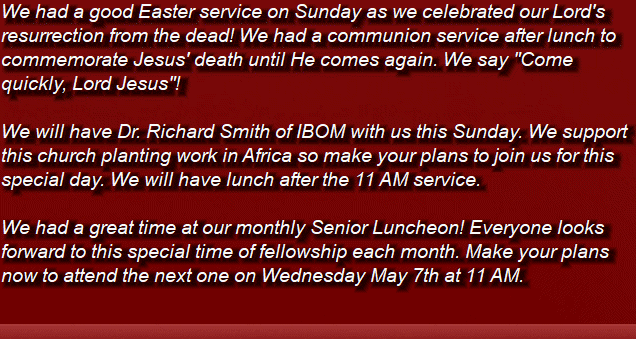 It is hard to believe that the first month of the new year is already gone! We began several new series' in January and hope you are following along on our Messages page.

Pray for several requests that have been brought to our attention in recent weeks. There are several family members and friends of our church that are going through some difficult times. People really need the Lord!

We begin the new year with Brother Mike teaching a new Sunday School series. Check these lessons out on our site !