{Copyright (C) 2011 Solid Rock Baptist Church All Rights Reserved}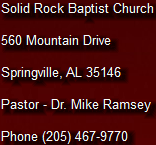 Solid Rock Baptist Church

560 Mountain Drive

Springville, AL 35146

Pastor - Dr. Mike Ramsey

Phone (205) 467-9770
Sunday School -- 10 AM

Sunday Worship - 11 AM

Sunday Evening -- 6 PM

Wednesday Night -- 7 PM
Solid Rock Baptist Church
The end of your search for a friendly church !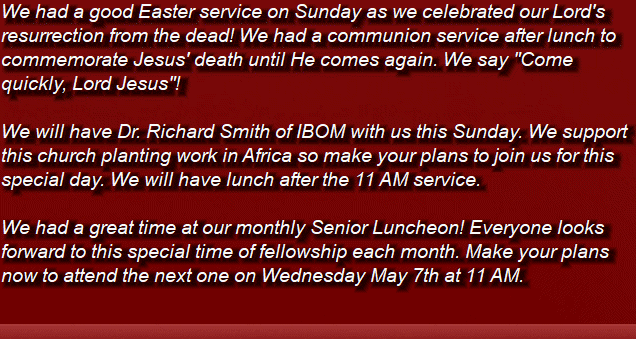 Well, here we are beginning the last month of 2016! Christmas is just around the corner! We wish all of our internet family a happy holiday season in the Lord!

Please remember those that have requested prayer in our church and through our web site. They are too many to list but the Lord knows the need of each heart.

We are continuing our Sunday School series about Contending For The Faith. Check these lessons out on our site !