{Copyright (C) 2011 Solid Rock Baptist Church All Rights Reserved}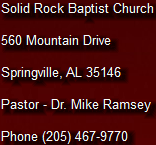 Solid Rock Baptist Church

560 Mountain Drive

Springville, AL 35146

Pastor - Dr. Mike Ramsey

Phone (205) 467-9770
Sunday School -- 10 AM

Sunday Worship - 11 AM

Sunday Evening -- 6 PM

Wednesday Night -- 7 PM
Solid Rock Baptist Church
The end of your search for a friendly church !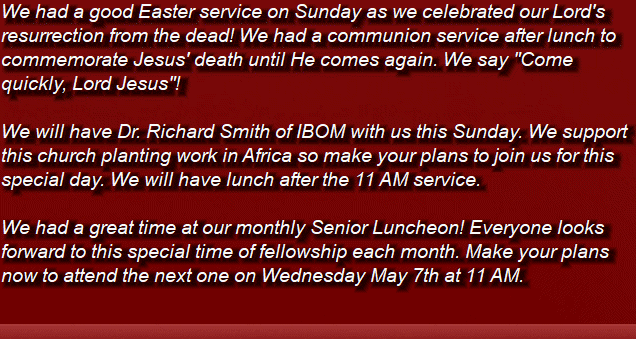 We are having our next Youth Night on Friday evening July 27th. Pray for this important ministry as we try to reach some children and young people for Christ.

Pray for us as we try to minister to those around us. We are having visitors each Sunday and there are many who need to be saved.

Continue to pray for the families on our prayer list that had loved ones to die recently. Also continue to pray for our oldest saints, Mrs. Reeves and Mrs. Newton.