{Copyright (C) 2011 Solid Rock Baptist Church All Rights Reserved}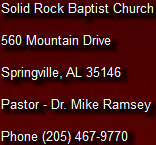 Solid Rock Baptist Church

560 Mountain Drive

Springville, AL 35146

Pastor - Dr. Mike Ramsey

Phone (205) 467-9770
Sunday School -- 10 AM

Sunday Worship - 11 AM

Sunday Evening -- 6 PM

Wednesday Night -- 7 PM
Solid Rock Baptist Church
The end of your search for a friendly church !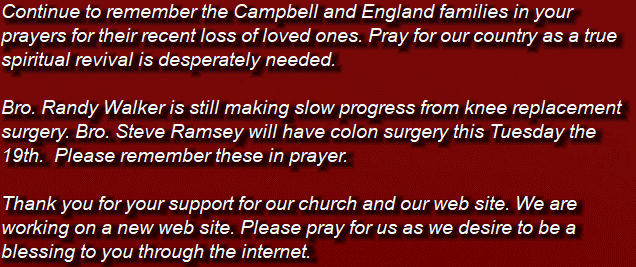 We are glad to be back online after our equipment failure. Our new recording equipment seems to be working well. Please let us know if you notice any problems with our recordings. Thanks for your prayers and support!

Please remember Mrs. Newton in prayer. Mr. Newton passed away a couple of weeks ago.

We have begun a new Sunday School series about Contending For The Faith last Sunday. Check these lessons out on our site !