{Copyright (C) 2011 Solid Rock Baptist Church All Rights Reserved}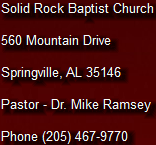 Solid Rock Baptist Church

560 Mountain Drive

Springville, AL 35146

Pastor - Dr. Mike Ramsey

Phone (205) 467-9770
Sunday School -- 10 AM

Sunday Worship - 11 AM

Sunday Evening -- 6 PM

Wednesday Night -- 7 PM
Solid Rock Baptist Church
The end of your search for a friendly church !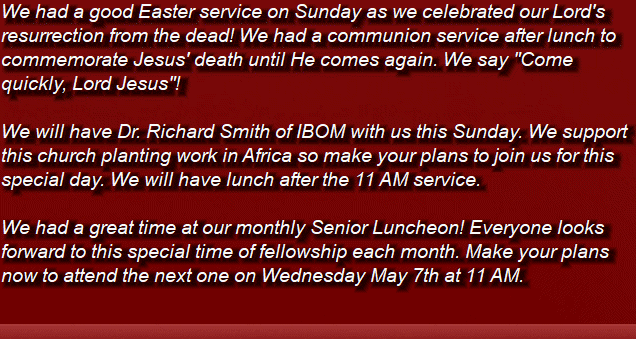 We have gone from a winter storm to 70 degree weather the past few days !!!! We hope all of you are doing well and remembering our church and its ministries in prayer.

We still have several families in our church and our internet church familyaffected by sickness. Please continue to pray for these as well as those requesting prayer through our internet ministry.

We have finished our Sunday School series about Contending For The Faith. A new series on the Church started on January 8 !