{Copyright (C) 2011 Solid Rock Baptist Church All Rights Reserved}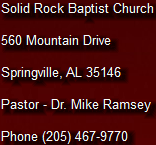 Solid Rock Baptist Church

560 Mountain Drive

Springville, AL 35146

Pastor - Dr. Mike Ramsey

Phone (205) 467-9770
Sunday School -- 10 AM

Sunday Worship - 11 AM

Sunday Evening -- 6 PM

Wednesday Night -- 7 PM
Solid Rock Baptist Church
The end of your search for a friendly church !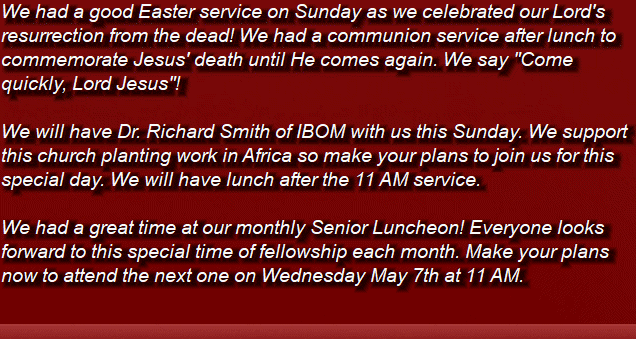 We enjoyed a great Father's Day service this past Sunday. We also had a terrific lunch the ladies prepared for the men after the morning service. We appreciate all of the hard work and the visitors who came to be with us!

We will have a missionary to Cuba visiting with us on July 9th. He will be presenting the work in Sunday School and be preaching in the morning service. Mark your calendar for this special day!

Brother Mike has started a new Sunday School series on the book of Romans. Be sure to listen to each lesson!