{Copyright (C) 2011 Solid Rock Baptist Church All Rights Reserved}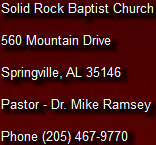 Solid Rock Baptist Church

560 Mountain Drive

Springville, AL 35146

Pastor - Dr. Mike Ramsey

Phone (205) 467-9770
Sunday School -- 10 AM

Sunday Worship - 11 AM

Sunday Evening -- 6 PM

Wednesday Night -- 7 PM
Solid Rock Baptist Church
The end of your search for a friendly church !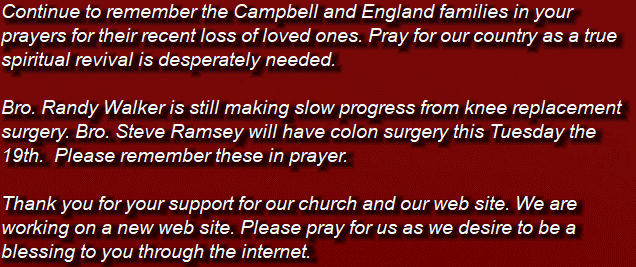 We have had some really bad thunderstorms recently and some of our recording equipment has been damaged as a result. We are not able to record and place our sermons and services on our web site until the problem is corrected. Thanks for your understanding!

Please remember Mr. & Mrs. Newton in prayer. He is back in the hospital and not doing well.

We will begin a new Sunday School series about Contending For The Faith in August. Check these lessons out on our site !