{Copyright (C) 2011 Solid Rock Baptist Church All Rights Reserved}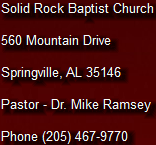 Solid Rock Baptist Church

560 Mountain Drive

Springville, AL 35146

Pastor - Dr. Mike Ramsey

Phone (205) 467-9770
Sunday School -- 10 AM

Sunday Worship - 11 AM

Sunday Evening -- 6 PM

Wednesday Night -- 7 PM
Solid Rock Baptist Church
The end of your search for a friendly church !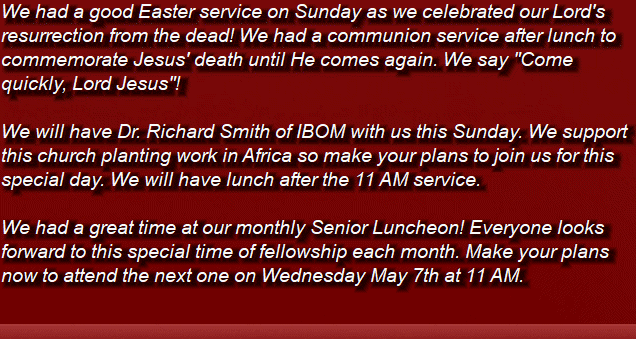 I will be out of the office for the next couple of weeks so our next web site update will be at the end of the month. Thank you for your prayers and support and I will be back at the end of the month, Lord willing!

We now have a monthly prayer list in print. If you would like a copy or want us to add someone to the list please email Brother Mike and he will be glad to add those needing prayer

The Sunday School series on the Church & Sunday School is continuing !