{Copyright (C) 2011 Solid Rock Baptist Church All Rights Reserved}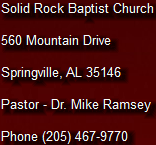 Solid Rock Baptist Church

560 Mountain Drive

Springville, AL 35146

Pastor - Dr. Mike Ramsey

Phone (205) 467-9770
Sunday School -- 10 AM

Sunday Worship - 11 AM

Sunday Evening -- 6 PM

Wednesday Night -- 7 PM
Solid Rock Baptist Church
The end of your search for a friendly church !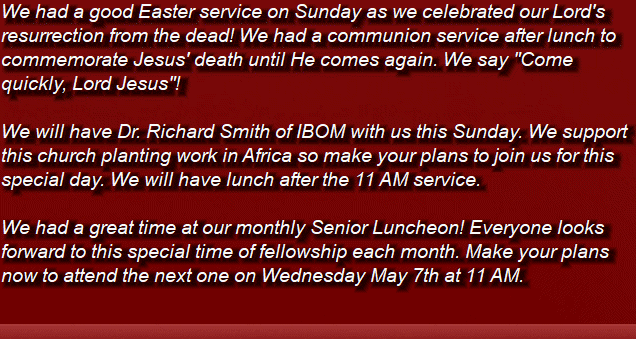 Thank all of you for your prayers and support as we try to minister to people in our church and over the internet. There is so much to pray about and so many people in need of prayer!

We are having true prayer meeting in the altar on Wednesday nights so there is no service or sermon to record for the internet.

Please pray for us !!! We are in the beginning stages designing a new web site for 2018. This design is seven years old and has never functioned as it should. We hope to provide more info and resources with our new site. Please contact us with what we could provide on our new site that you would like to see. Thanks !!!!!!!