{Copyright (C) 2011 Solid Rock Baptist Church All Rights Reserved}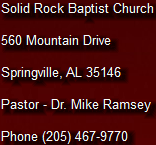 Solid Rock Baptist Church

560 Mountain Drive

Springville, AL 35146

Pastor - Dr. Mike Ramsey

Phone (205) 467-9770
Sunday School -- 10 AM

Sunday Worship - 11 AM

Sunday Evening -- 6 PM

Wednesday Night -- 7 PM
Solid Rock Baptist Church
The end of your search for a friendly church !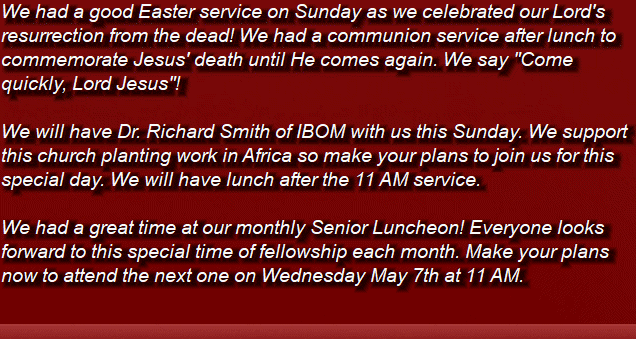 We pray that all of you that follow us through the internet are doing well. We do appreciate you love, prayers, and support !!!!!!

We still have families our internet church family affected by sickness. Please continue to pray for these as well as those requesting prayer through our internet ministry.

The Sunday School series on the Church is continuing !